The lack of prevention of musculoskeletal injuries in the work environment can have a significant impact on costs for companies and workers. 
The physiotherapist has a key role in the occupational health sector to monitor, assess, and treat different occupational diseases caused by different risk factors including poor posture, repetitive movements, muscle overload. 
Source: Occupational Accident Statistics – Advance January 2022
According to the January preview of the Occupational Accident Statistics report , overstrain of the musculoskeletal system, dislocations and strains and superficial injuries are the top 3 occupational accidents in Spain. 
Top 5 musculoskeletal pathologies in the work environment and their most common causes
Repetitive strain injuries (RSI), such as carpal tunnel syndrome and tendonitis.
Carpal tunnel syndrome is one of the most common workplace injuries. It is caused by overuse and overloading of the tendons, nerves and muscles in the wrist and forearm.
According to a study carried out by AMAT – Association of Mutual Insurance Companies for Accidents at Work – hand injuries in the last 5 years have exceeded 100,000 cases. 
A common cause is prolonged use of the mouse. The onset of pain may vary from individual to individual, but it is believed that prolonged use of the mouse for more than 4 hours a day may increase the risk of developing musculoskeletal pain. However, it is important to note that some people may develop pain with even minor use of the mouse, while others may use the mouse for longer periods of time without experiencing health problems. 
Tendonitis is another common workplace injury, especially in the shoulders, elbows and wrists. Workers who perform repetitive motions with their arms and hands are at increased risk of developing tendonitis.
Low back pain is one of the leading causes of sick leave in many countries. According to data from the International Labour Organisation (ILO), low back pain is responsible for more than 30% of work-related sick leave. In addition, low back pain is one of the leading causes of disability worldwide and is estimated to affect around 80% of the population at some point in their lives. In economic terms, the annual cost associated with low back pain is significant, including the costs of time off work, medical treatment and lost productivity.
Workers who spend a lot of time sitting or standing, as well as those who perform tasks that require heavy lifting or moving heavy objects, are at an increased risk of developing this syndrome. It mainly affects workers in construction, mining, agriculture, logistics, cleaning and healthcare. 
Mobilization injuries, such as low back pain and herniated discs, are caused by improper lifting of heavy objects and overuse of the back.
Workers who use power tools, such as drills and saws, are at risk of developing vibration injuries. These injuries include Raynaud's disease, hand-arm vibration syndrome and hand-wrist vibration syndrome.
Workers who spend a lot of time sitting or standing in one position can develop postural injuries, such as back, neck and shoulder pain. Workers who use computer screens are also at risk of developing these injuries. Symptoms of posture injuries include back pain, neck pain, shoulder pain, and muscle weakness. If left untreated, these injuries can lead to permanent disabilities and can limit a person's ability to work or perform daily activities.
It is important for workers to be aware of these conditions and for employers to provide a safe and healthy work environment to prevent injuries and improve the health and well-being of their employees.
 Prevention is the key
To talk about physiotherapy in the areas of occupational health and safety is to encourage workers to take preventive measures to reduce incidents and absenteeism.
Among the possible programmes to implement are the early treatment of different pathologies or work-related illnesses to avoid chronic injuries and to avoid an increase in sick leave, thus affecting the company's productivity. 
For this reason, prevention programmes and promotion of the integral wellbeing of workers should be chosen, as well as rehabilitation processes in a timely manner, by means of appropriate treatment. 
In addition to task rotation, promoting regular breaks and monitoring of working conditions, it is necessary to establish safe working protocols to avoid injuries. As well as providing training and awareness-raising for workers and promoting a culture of safety at work.
Occupational physiotherapy can implement measures to prevent occupational pathologies in order to improve the health and well-being of workers. Some measures include:
Ergonomic assessment: A physiotherapist can perform an ergonomic assessment of the workplace to identify posture, movement and workspace design problems that may contribute to musculoskeletal injuries.
Environmental design: Physiotherapists can collaborate with workspace designers to ensure that the space is safe and comfortable for workers.
Training: Physiotherapists can train workers in the correct use of tools and equipment, as well as safe lifting and movement techniques.
Strengthening and stretching exercises: Physiotherapists can design specific exercise programmes to strengthen muscles and stretch joints, helping to prevent injuries.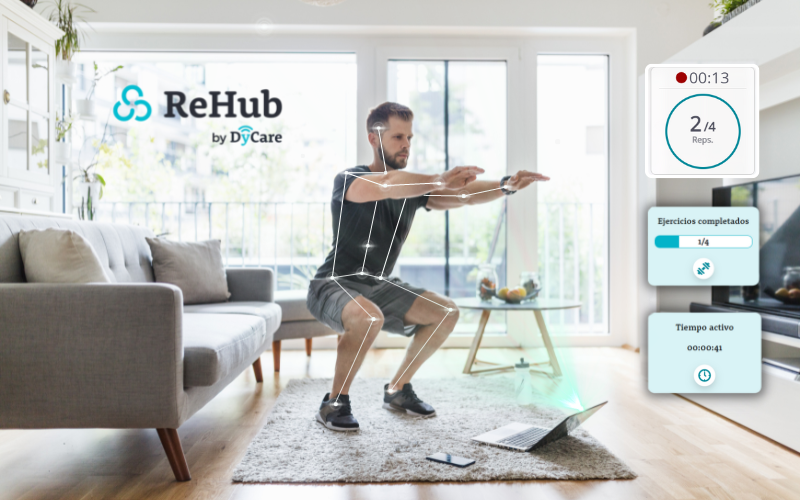 How to prevent work-related injuries with Rehub
For this last point, ReHub is the perfect ally as it can be easily integrated into the work routine. The telerehabilitation platform allows the professional to prescribe personalized therapeutic exercises according to the needs of the worker and their profession, as well as creating group exercises and designing promotion and prevention programmes.  Thanks to artificial intelligence and the detection of movement by camera, the employee will only need the camera of their mobile phone or computer to perform the exercise and will receive feedback in real time. Using ReHub technology, the physiotherapist can obtain objective data that allows him to analyze the employee's evolution, send him questionnaires and reports. 
Overall, implementing preventive and ergonomic measures to protect workers can help reduce these costs in the long run, and improve the health and well-being of workers.